Spotting Fake Deals
The good old saying, 'If it's too good to be true, then it probably is'
Our industry is plagued with offers which do not exist, we see this a lot. Week in, week out.

So, how do we know?
That's very simple. We mystery shop them. We have a dedicated team that enquires as a customer to find out about the offer in question, usually its too good to be true, and what do we find?....the same as you! These deals are not available, cars have been sold, or we have been too late for the offer. The list goes on and each month there is always another sneaky ploy to lure customers into fake deals.
Why do they do this?
This is the million dollar question. We believe the main reason is to get the phones ringing. Once you have made that call, you find the offer has expired or no cars left (funny that) and they will try to 'switch sell' you into another car at a higher price.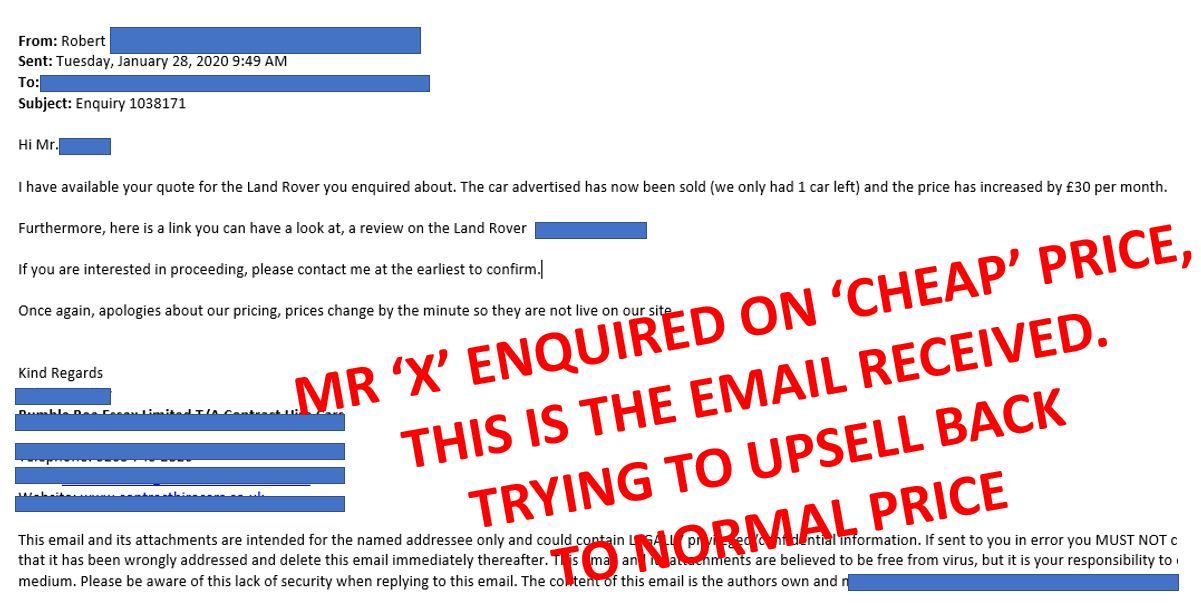 What do we think about this?
You don't need us to tell you that we get frustrated each and every day about these fake deals. Why on earth would you advertise an offer which you know full well you can't supply. This is misleading and is giving what we do a bad name by these cowboys.
So, to help you, we have our top ten tips on how to tell it's a fake deal, please see below;
That old chestnut 'thank you for your enquiry but that car has now gone, but we have got this car available.... but the price is slightly higher due to residual values. - Fake news.
The rental you have seen advertised does not include metallic paint. And now, we are sold out of solid colours (strange that) so the price is an extra £40 per month for the metallic. Dependent on the brand, usual cost for metallic per month is around £5 to £10. Extra £40 and more is what you would pay for metallic on a Ferrari! - Fake news
The famous credit checks. If you ever get asked to get the finance in place first before discussing quotations and offers, stay away. They will try to get the approval and these bedroom brokers will use scare tactics to keep you with them stating that if you went elsewhere you will get further checks on your credit file. This is true, but only give your details once the deal has been confirmed and you can guarantee they have a car. See number 4.
Confirming built and stock cars. For Mercedes -Benz, if they state the car is in stock, ask for the 'COMM number'. This is the unique build number, for other brands it will be the chassis number or dealer order number. If they can't confirm a car in stock with this, guess what - Fake news.
Bedroom brokers always give what we do a bad name. Setup historically from their bedroom, they are one-man bands which there only focus is commission and units with no care for customer service. If something goes wrong, nowhere to be seen. We can name many but that is slightly unprofessional.
All reputable brokers should be a limited company registered at companies house. You can search a company via companies house online and you can see their financial accounts and who the directors are to check you are dealing with the correct team. You can also see how long the company has been trading. Beware of start-ups, with no trading history it's very difficult to know whether they will be around in 3 months. Harsh but true.
Reviews. Always check reviews on their website and in google. Look for review companies like Trust Pilot and Ekomi which they are partnered with as these independent feedback companies work separately and contact each customer for a genuine review. Too many bedroom brokers make testimonials up to give them false credibility. - Fake news.
Bad reviews. All reviews are good reviews and if a company has all positive reviews, fake news. We can't always get things right, a car maybe delayed for example which is out of our control, customers will complain and leave bad reviews. This is fine. We all need bad reviews to understand where we can improve and more importantly respond with a solution quickly. A reputable broker will be completely transparent and show bad reviews as well as positive ones.
BVRLA - The British Vehicle Rental and Leasing Association is the leading trade association for the vehicle rental and leasing sector in the UK, established in 1967, the British Vehicle Rental & Leasing Association (BVRLA) is the UK trade body for companies engaged in vehicle rental, leasing, and fleet management. - Ask for their membership number. No number stay away.
Ask us. On the rare instance, if we cannot beat your quote, let us investigate how they have done it. Speak to us as we may have seen the offer you have had from another customer of ours. As always, we are completely transparent. We work on trust and integrity, and it's our duty to make sure you are treated fairly.
So, if you want to lease from a proper company that has built a reputation on trust over the years, call us today.